10th Anniversary of Scratch
Scratch was created by the MIT Media Lab's Lifelong Kindergarten research group led by Mitchel Resnick. They aimed at creating tools for kids to draw and animate characters they developed, and learn how to work with graphics and sounds.
"When we launched Scratch 10 years ago, we launched the online community, together and integrated with the programming language. And that was important to us. We wanted from the beginning for kids to be able to have an audience for what they created. It is also a source of inspiration... When we learn a regular language, we are inspired by reading great works, reading books written by others, and that inspires us to learn the language, to learn to write. By looking at the projects on the Scratch website – that's the literature of Scratch, people can see what others have done and be inspired by it. Even the name Scratch deals with the social side, it comes from the way that disc jockeys scratch with music and it lets to put together pieces of media and then to share with others, and to remix what others have made," – recalled Mitchel Resnick at the 10th International Scratch in conference in Bordeaux, France.
Besides programming, Scratch helps children learn to think creatively, reason systematically, and work collaboratively – essential skills in the 21st century. So both what is learned and how it is learned is important.
"Education has very little to do with explanation, it has to do with engagement, with falling in love with the material," Mitchel Resnick cited Seymour Papert, Grandfather of Scratch.
After 10 years, we may say that students enjoy Scratch due to its attitude and approach. Together with Scratch, they love programming, building algorithms, and implementing their ideas using different programs.
Today, over 20 million users are registered at scratch.mit.edu. People from every country in the world use Scratch.
Scratchers have shared over 24 million projects in the online community. More than 100 million pageviews were registered last month.
Although it was created for children aged 8 and up, people of all ages use Scratch today.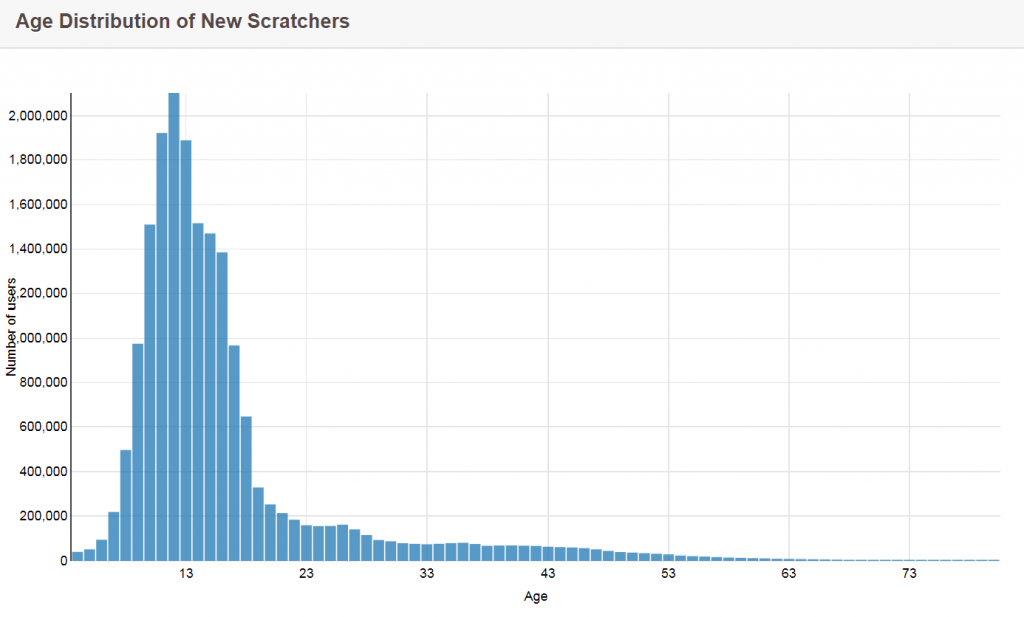 The 10th anniversary of Scratch has gathered children, parents, and educators on all continents at Scratch Day events to meet in person and celebrate Scratch. Representatives of the Scratch Belarus community will participate in the Scratch Conference in Budapest on August 24-25. The international event is organized by the resident of Belarus Hi-Tech Park – EPAM Systems.