New Techniques of Teaching Scratch
After communicating with teachers and students, one cannot doubt the fact that the children are truly enjoying learning programming in Scratch within the framework of the educational project Programming is the New Literacy. Anyway, the teachers always have to introduce new ways of engaging students, and they succeed.
Oksana Lovkis, Informatics Teacher at Lida Secondary School No.4, shared her experience in encouraging students learning programming in Scratch.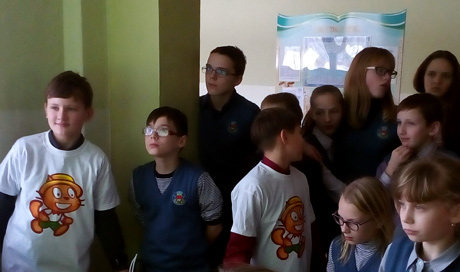 During the Informatics Week, Scratch Master marathon was organized. Students of grades 5-6 who attended the elective in Scratch – Developing Computer Games in Scratch – presented their projects to their schoolmates. For that, computers were relocated into the hall so that everyone could see the games developed by the young programmers.
"I did not expect that even high school students would become impressed with the event. My students explained how they developed games and how Scratch operates. They both consolidated their knowledge and inspired those who did not know about Scratch. Now students constantly ask me to enroll them for the elective. I am happy that games are interesting to students not only as entertainment but also as a type of creativity," noted Oksana Lovkis.